Dyersburg City Schools Honors Bill Revell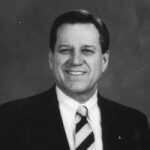 ---
In the weeks leading up to our Hall of Honor program, slated for September 24, Dyersburg City Schools will be publishing a feature on each honoree. This week's honoree is Bill Revell, Class of 1948.
Bill Revell is a member of the 1948 graduating class from Dyersburg High School. Upon graduation, Revell attended General Motors Institute in Flint, Michigan. Before assuming the position of Dyersburg mayor, he was a businessman and a General Motors dealer for 26 years. He graduated from the General Motors Institute and received his doctorate from Southern Bible Institute and Seminary in Augusta, GA.
Revell served eight years as chairman of the Tennessee Local Governmental Planning Advisory Commission and is past president of the Tennessee Municipal League. He was also a charter member of the Dyersburg Union Mission. Revell proudly served the City of Dyersburg as Mayor from 1980-2006. He remained very active after his 26-year tenure as mayor by serving as I-69 Coalition Vice President.
In 1987, he earned the coveted Tennessee Municipal League "Mayor of the Year" Award and also served as past president. Revell was the longest full-time mayor in the history of the State of Tennessee. He is the past president of West Tennessee Mayors, former president of the West Tennessee Mayor's and County Executives Association, Former Chairman of the Tennessee Local Governmental Planning Advisory Commission, a member of the Advisory board of the National League of Cities, a proud member of Dyersburg First United Methodist Church, and was invited to be on the Advisory Board of the Great Lakes Trade Corridor.
He was a star football and track athlete during his days at DHS and was honored in 2014 for his 61 years of dedicated service to the DHS football program. He carried the down marker and chains during Dyersburg High School home football games since 1953. Revell ended out his career as the owner of Sunshine Motors.